Milano / Monday 5 September 2016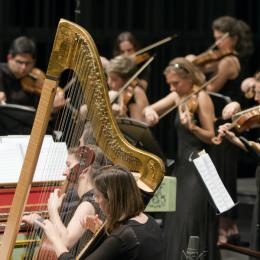 Academia Montis Regalis
Piccolo Teatro Studio Melato / at 05:00 PM
THE BACH HOUSE
There was, of course, Johann Sebastian. But let's not forget Carl Philipp Emanuel, Wilhelm Friedemann and Johann Christoph Friedrich. A father and three talented sons. A prodigious family. Practically an orchestra in itself.
Johann Sebastian Bach
Suite n. 2 in si minore per flauto, archi e cembalo BWV 1067
Johann Christoph Friedrich Bach
Sinfonia in re minore HW I/3
Johann Sebastian Bach
Suite in do maggiore per orchestra BWV 1066
Wilhelm Friedemann Bach
Sinfonia in fa maggiore F. 67 "Dissonant"
Carl Philipp Emanuel Bach
Sinfonia in do maggiore Wq 182/3
Il concerto sarà preceduto da una breve introduzione guidata a cura della Delegazione FAI Milano.
Il concerto è preceduto da una breve introduzione di Gaia Varon
In conjunction with
Academia Montis Regalis
Assigned seating € 5