MITO is
Pro-Sustainability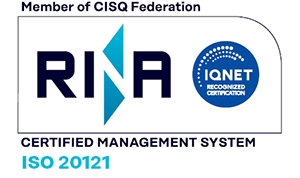 In 2020 the City of Torino began its march toward UNI ISO 20121:2013 certification of environmentally sustainable cultural events. MITO SettembreMusica has been and continues to be a champion of good practices with regard to accessibility and the promotion of social equity. We see music as playing a crucial role when it comes to bringing people together to overcome disparity and provide a sense of community – in Milano, Torino and the world over.
MITO SettembreMusica is a complex event, in which a host of people and institutions interact. This City of Torino project is the result of teamwork together with Fondazione per la Cultura Torino, aimed at influencing the attitudes of audiences, partners and stakeholders in the hopes of building a better world for the future. MITO SettembreMusica organization focuses on the well-being of people and the environment. We are dedicated to sustainable growth through conscientious management of human and environmental resources.
The Festival role is not merely as a cultural repository, but as an instrument of social cohesion.