MITO editions
MITO SettembreMusica continues its publishing endeavors, which began back in 1985 when SettembreMusica was a Torino-based festival. We remain dedicated to enriching the panorama of Italy's music culture by providing lasting testimony. With the fifth edition of MITO SettembreMusica in 2009, our monographs and studies in ethnomusicology numbered 39 in all. Much of the interest in the monographs is focused on exhaustive interviews which offer authentic autobiographical dialogue. Our ethnomusicology series has been widely used in university courses in Italy and abroad. Combining our traditional music showcase with publications of equally high quality, under the supervision of the Festival's Artistic Director, is part of MITO SettembreMusica's ongoing commitment to fostering music culture in today's and tomorrow's audiences.
1985 Editions
Contemporary Music
---
Ligeti
Autori vari
Edited by Enzo Restagno
Edt, Torino 1986
ISBN 978-88-7063-036-7
György Ligeti left Hungary in 1956 and shortly thereafter became a star on the world's contemporary music scene. With his success he triumphantly broke out of the somewhat limited circle of practitioners of "New Music". Part one's critical testimony by Enzo Restagno, Ivanka Stoianova, Ulrich Dibelius, Wolfgang Schreiber, Monika Lichtenfeld, Armando Gentilucci and Franco Donatoni, and in-depth essays on each of the composer's works in part two make this book an important tool for study and consultation. It also includes autobiographical documents, notes and essays by Ligeti himself, presented here for the first time in Italian.
1986 Editions
Contemporary Music
---
Henze
Autori vari
Edited by Enzo Restagno
Edt, Torino 1986
ISBN 978-88-7063-045-9
Not only a tribute to Hans Werner Henze, one of contemporary music's major exponents, this book also focuses on funda­mental aspects of twentieth-century music, breaking down misconceptions and blasting stereotypes. Contributing authors avail themselves of complete freedom, and readers perceive a sort of objective impulse that coincides with the cultural vision of the 1980s – a vision able to measure distances as it readjusted its perspective. These essays offer an international approach (along with an expected slew of German authors, we're also treated to Italian, Swiss, French, Costa Rican and American takes on Henze and his world) and reflect the broad range of influence of the composer's music.
1987 Editions
Contemporary Music
---
Nono
Autori vari
Edited by Enzo Restagno
Edt, Torino 1987
ISBN 978-7063-048-0
In a long interview Luigi Nono talks about his experiences as a man and musician, as his reflections intertwine with his memories. The book then focuses on his works, with some of contemporary music's best critics and analysts delving into various aspects of the composer's work. Rounding out the collection is a selection of writings by Nono and a section dedicated to testimony by key figures in international culture, called upon to offer their own personal portraits of Nono.
1988 Editions
Contemporary Music
---
Xenakis
Autori vari
Edited by Enzo Restagno
Edt, Torino 1988
ISBN 978-88-7063-059-6
Iannis Xenakis was an engineer, architect and musician whose compositions are listened to the world over – from South Korea to Canada, from Japan to the United States. His spellbinding conferences combined philosophy, astrophysics, mathematics, architecture, biological engineering and music, and his capacity to meld diverse disciplines was indeed rare.  He became a symbol of the potential for the interaction of the human personality's various aspects.
In Enzo Restagno's exhaustive interview Xenakis tells the tale of his life. Followed by reflections on the composer's works by Milan Kundera, François-Bernard Mâche, Rudolf Frisius, Maurice Fleuret, Ernesto Napolitano and Harry Halbreich. The book concludes with an essay by Xenakis – a precious final exploration of his musical thought.
1989 Editions
Contemporary Music
---
Carter
Autori vari
Edited by Enzo Restagno
Edt, Torino 1989
ISBN 978-88-7063-051-0
Throughout his long life, Elliott Carter has been a careful and sensitive observer. He left the extraordinary melting pot of 1920s New York for Paris, where he spent the early 1930s, and returned to the U.S. determined to make his mark as a composer.  He knew and assessed the entire spectrum of technique and poetics without ever yielding to any particular cultural model. Carter's life and work have at once, and singularly, taken parallel, transver­sal and divergent directions, and his conversation with Enzo Restagno presented here provides us with a glimpse at the man's extraordinary breadth. And for the first time, Italian readers are treated to a vast anthology of the composer's writings, which focus more on his ideas and thoughts than on a review of his works.
1990 Editions
Contemporary Music
---
Donatoni
Autori Vari
Edited by Enzo Restagno
Edt, Torino 1990
ISBN 978-88-7063-083-1
Composer Franco Donatoni of Verona, Italy discusses his life and work with Enzo Restagno. Their conversation is followed by a wide-ranging critical analysis, looking at his early days and the influence of Bruno Maderna, to his summer courses at Darmstadt, all the way to his later works such as Voci, Duo per Bruno, Arie and Atem. The book also includes testimony by several of Donatoni's contemporaries (Goffredo Petrassi, Pierre Boulez, Jean Marc Singier, Sandro Gorli, José Ramón Encinar), catalogue, bibliography and an annotated discography.
1991 Editions
Contemporary Music
---
Gubajdulina
Autori vari
Edited by Enzo Restagno
Edt, Torino 1991
ISBN 978-88-7063-111-1
Enzo Restagno's long conversation with Russian composer Sofija Gubajdulina led to this interview-biography, which also constitutes a document of fundamental importance on Soviet music, as well as on political and social events of the USSR. Valentina Cholopova – today considered among the leading exponents of Russian musicology – goes straight to the heart of Gubajdulina's music as she provides the first thorough  analysis of the composer's training and work. An appendix includes a Gubajdulina catalogue, discography and bibliography.
1992 Editions
Contemporary Music
---
Petrassi
Autori Vari
Edited by Enzo Restagno
Edt, Torino 1986 e 1992
ISBN 978-88-7063-044-2
The first edition of this book came about thanks to an initiative promoted by the Arturo Toscanini Symphony Orchestra of Emilia Romagna, Italy. For the second edition, an updated bibliography and disco­graphy were added, as well as an interview in which Goffredo Petrassi talks about his life and work. Petrassi is an affable and objective conversant as he recalls with sober tones and incisiveness both historical events and episodes from his per­sonal life. But the book is mostly a well-articulated study of the composer's work, featuring a highly qualified team of contributing authors. There's also testimony by contemporary composers Sylvano Bussotti, Elliott Carter, Aldo Clementi, Franco Donatoni and Guido Turchi.
1993 Editions
Contemporary Music
---
Schnittke
Autori vari
Edited by Enzo Restagno
con un saggio su
URSS/Russia: 40 anni di musica
dalla morte di Stalin
Edt, Torino 1993
ISBN 88-7592-812-6
As his vast discography studded with "hits" shows, Alfred Schnittke was somewhat of an anomaly on the contemporary music scene. The roots of his success are analyzed in this book, featuring the composer's conversations with Enzo Restagno and Elizabeth Wilson, as well as a monograph by Aleksandr Ivaškin, who delves deeply into the musical art of Schnittke and provides a careful analysis of his works. A broad-ranging introduction examines Soviet and Russian music culture from the death of Stalin to today.
1994 Editions
Contemporary Music
---
Reich
Autori vari
Edited by Enzo Restagno
Edt, Torino 1994
ISBN 978-88-7063-221-7
The spirallike development of American composer Steve Reich's creative evolution, his cyclical returns to themes and elements of construction that constantly renew themselves in their use of ever-original expressive means, the mini­malist origins in the methodological clarity that sustains his works, all come to light in his conversations with Enzo Restagno and the most complete collection of his own writings yet published. Restagno's introduction explores the roots of twentieth century America's great artistic and intellectual movement, and how it led to the development of an intensely rich musical scene, which also combines fertile and evocative links with European trends.
1995 Editions
Contemporary Music
---
Berio
Autori vari
Edited by Enzo Restagno
Edt, Torino 1995
ISBN 978-88-7063-248-4
The multi-discipline works of Luciano Berio, with his capacity for connecting the various languages of gesture, sound and expression from a theatrical perspective – which is a constant throughout his entire production – explore the labyrinth in which we live, providing us with a virtual topography of it. This book, published in concomitance with the composer's seventieth birthday, brings together writings by Berio himself, as well as greats like Calvino, d'Amico, Eco, Mila, Sanguineti, all of whom, as collaborators or admirers, have with remarkable foresight recognized Berio's genius. There are also fine-tuned musicological analyses of the composer's works.  
1996 Editions
Contemporary Music
---
Andriessen
Autori vari
Edited by Enzo Restagno
Edt, Torino 1996
ISBN 978-88-7063-289-7
"I reject the theory of the continuity of my work. I use what I find around me, depending on the situation, and it's always something different."
Thus Dutch composer Louis Andriessen sums up his philosophy as a man and as an artist. Ever since the immediate post-WWII period, buttressed by his classical background and love of composition "craftsmanship", with the addition of serial passion, minimalism and undeniable neoclassical loves, this Dutch yet quintessential cosmopolitan composer has become a benchmark for musicians and audiences alike.  
1997 Editions
Documents
---
Caro Johannes!
Billroth/Brahms Lettere 1865-1894
Edited by Alois Greither
Edt, Torino 1997
ISBN 978-88-7063-220-0
"… I cannot relax until I tell you, dear old friend of mine, that today you have given me some truly happy hours. I'm beginning to think that you have always been the biggest part of the best hours of my life, so rich have they been, as only few mortals might imagine… This is a bond like the one between brothers in good families. Each goes his own way, but we always meet up again."
Thus surgeon and music critic Theodor Billroth attempts to sum up the meaning of his long-time friendship with Brahms, which revolved around a great passion for music against the background of nineteenth-century Vienna and its lively musical culture. The book contains seventy-eight letters, the core group of a voluminous epistolary exchange between Billroth and Brahms, 1865-1894.  
Documents
---
Settembre Musica 1978-1997
Autori vari
Edited by Antonio Cirignano
Umberto Allemandi & C., Torino 1997
ISBN 978-88-422-0723-3
Published in concomitance with the twentieth edition of the SettembreMusica international music festival, this book presents each year's program from 1978 to 1997, along with a series of precious testimony and a slew of photos. There is also an essay on the evolution of one of the world's best-loved music festivals. A helpful tool for those interested in developments in international culture, a guide to the events and protagonists that resounded through Torino's cultural scene for two decades.
1998 Editions
World Music
---
François Picard, Enzo Restagno
La musica cinese. Le tradizioni e il linguaggio contemporaneo
Edited by Enzo Restagno
Edt, Torino 1998
ISBN 978-88-7063-377-1
The music of China is surprisingly close to Western musical trends, yet it has long eluded understanding on the part of Westerners. François Picard, among Europe's top connoisseurs of Chinese music and culture, presents genres, history, theory and the instruments of the Chinese tradition with enthusiasm and philological precision. No less captivating are Enzo Restagno's interviews with Chinese composers, preceded by an in-depth essay on the relationship between Chinese tradition and contemporary culture, experienced so dramatically by a generation that has lived through the Cultural Revolution and has with intelligence exported the cultural reawakening of an ancient nation to the world.
Documents
---
Casa Schumann
Diari 1841-1844
Edited by Gerd Neuhaus
Edt, Torino 1998
ISBN 978-88-7063-371-9
"My beloved young bride, let me give you the most tender of kisses today, the first day of your married life, the day of your twenty-second birthday. This small notebook, which I inaugurate today, is destined to mean so much. It will contain the daily summary of all that happens in our home, in our lives together. It will be a place to record our desires and hopes. It will be our book of prayers, the ones we wish to dedicate to one another when spoken words are not enough."
Thus begins the diary written together by Robert Schumann and Clara Wieck over a four-year period. It provides living, pulsating testimony of making a dream come true – a dream not only of love, but also the converging aspirations of a great composer and a great pianist.  
1999 Editions
Documents
---
Schubert. L'amico e il poeta nelle testimonianze dei suoi contemporanei
Edited by Otto Erich Deutsch
Edt, Torino 1999
ISBN 978-88-7063-432-7
"It was 1814 when one day, hand in hand with a friend, Schubert entered the room which five years later we would occupy together. …House and room took on the burden of time: the ceiling had nearly caved in, light was dimmed by a large building that rose up across the street, there was a piano that had been played beyond its limits, a shabby library. Such was the place. And the memory of that place, along with the hours I'd spent there, will never leave me." Words of the poet Mayrhofer, fraternal friend of Schubert, his companion in art and author of many lyrics for his Lieder. His is but one of the many testimonies gathered by Otto Erich Deutsch, the memories of Schubert's friends. Their recollections provide an exquisite portrait of the great composer. We get a glimpse not only of the man, but also of Vienna in the early 1800s. 
2000 Editions
World Music
---
Musiche dal Tetto del Mondo
Autori vari
Edited by Mireille Helffer
Introduction by Enzo Restagno
Testo & Immagine, Torino 2000
ISBN 978-88-8382-005-3
Each gesture, each sound, each instrument from the world of Tibetan music is so loaded with symbols that one may begin anywhere along the line on his or her own discovery journey to the heart of that culture. Mireille Helffer is the first to gather together such a unique wealth of rigorously documented studies on the subject. From secular and folk music, in which the epic traditions of Tibet lie, to the rituals of the monasteries, from vocal to instrumental music, and the most recent developments of the early twenty-first century. Essays by fellow musicologists offer important tools for an all-new approach to this ancient civilization of the Himalayas.
2001 Editions
Documents
---
Haydn. Due ritratti e un diario
Edited by Andrea Lanza e Enzo Restagno
Edt, Torino 2001
ISBN 978-88-7063-577-5
This book offers three exceptional documents on Franz Joseph Haydn, here translated for the first time in Italian and accompanied by ample commentary. Two are biographical portraits based on interviews with the aging composer by assiduous frequenters of his Vienna home, publishing agent Georg August Griesinger and painter Albert Christoph Dies. The third document consists of diary entries by Haydn during his trips to England, 1791 - 1795, containing his impressions of the places visited and the people he met, anecdotes and extraordinary experiences of a Viennese composer catapulted into the chaos of late eighteenth-century London. A straightforward, touching account of Haydn's public and private life.
2003 Editions
Contemporary Music
---
Peter Brut
La musica di Tōru Takemitsu
Italian edition edited by Enzo Restagno
Ricordi, Milano 2003
ISBN 978-88-7592-747-2
Even after the death in 1996 of Tōru Takemitsu, the most celebrated Japanese contemporary composer, his music has continued to gain fame the world over, played by the greatest international orchestras and the most renowned performers, earning him a growing reputation for excellence. Author Peter Burt has provided the world with the first complete study on Takemitsu. The Italian version comes with an in-depth introduction by Enzo Restagno and provides an exhaustive analysis of the composer's work and a contextualization of Takemitsu as heir to the Japanese musical tradition of the twentieth century. The broadest ranging study on the renowned composer to date, with in-depth analysis and vast documentation, this book is a precious guide to one of the latter twentieth century's greatest composers.
World Music
---
Musiche e danze della Cambogia
Edited by Giovanni Giuriati
Introduction by Enzo Restagno
Ricordi, Milano 2003
ISBN 978-88-7592-748-0
A book on the extraordinary flowering of ancient and modern Cambodian musical culture. Music and dance are interconnected with history and art, religion and divinities, and the contradictions and complexities of Cambodia today. Part one serves up a series of studies, while part two offers an anthology that gathers historical testimony of the first archeological discoveries of Khmer civilization.
2004 Editions
Contemporary Music
---
Arvo Pärt allo specchio.
Conversazioni, saggi e testimonianze
Edited by Enzo Restagno
Il Saggiatore, Milano 2004
ISBN 978-88-428-1230-7
The music of Arvo Pärt takes shape following a drawn-out period of silence in the 1970s. Thus began his radical experimentation and research, focusing on the pure essence of sound, freed of the technical constraints and artificiality of contemporary musical languages. This period of apprenticeship led to tintinnabulation – simple, austere music laced with mysticism, at times incantatory. The composer talks about this "waiting" stage, which would give way to a deluge of composition, the subject of his conversation with Enzo Restagno here, and provides a glimpse of Pärt's formative years in Estonia, up till his move to Vienna in the 1980s. There follow pages of testimony and brief interviews, as well as articles on the esthetic implications and poetics of Pärt.
World Music
---
Laurent Aubert
Il ritmo degli dei. Arti e rituali del Kerala (India del Sud)
Introduction by Enzo Restagno
Ricordi, Milano 2008
ISBN 978-88-7592-775-6
Kerala occupies a singular position in Indian civilization. Its originality particularly shines through when it comes to ritual arts. Theater and dance, representations of the alluring world of myths and epic legends, are imbued with surprising esthetics. Indian gods and heroes assume supernatural appearances, they don sumptuous vestments and move to the sounds of thundering percussion. The lyrics of the songs and the melodies of the instruments invoke the intercession of divine powers. Nothing can ever be beautiful enough to attract the presence of the gods – the finest imagery, the most spectacular dances, the most complex rhythms, the most elegant music… A profusion of splendor and expertise that stem from knowledge of the great beyond, competence and highly sophisticated art forms. The culture of Kerala offers incomparable testimony. 
2005 editions
Contemporary Music
---
Henri Dutilleux.
Mistero e memoria dei suoni.
Conversazioni con Claude Glayman
Italian edition edited by Enzo Restagno
Ricordi, Milano 2005
ISBN 978-88-7592-801-0
Assimilating a plethora of modern musical experiences, Dutilleux found his own footing in a reflection on the relationship between past and present, placing at the center of his poetics notions of time and memory. In this conversation with Claude Glayman, Dutilleux talks about his training, his inherited love of physics, his relationship with works of art by Corot, Delacroix and Van Gogh, his own musical predilections, the laborious struggle to come up with his own style, and his background rife with artistic and intellectual experiences. Visual, literary and sound experiences have all gone into shaping Dutilleux's imagination, and continue to do so based on an exploration of memory and temporal return that takes its cue from Proust.
World Music
---
Jean During
Musiche d'Iran. La tradizione in questione
Italian edition edited by Giovanni De Zorzi
Introduction by Enzo Restagno
Ricordi, Milano 2005
ISBN 978-88-7592-800-2
Iran, a centuries-old bridge between East and West, is a land inhabited by Indo-European peoples, where music has for at least the past 2,500 years been considered a high art form and has not ceased to evolve and become more refined. Over time, music and poetry have been a fascinating and distinctive trait of Persian linguistic civilization. Their influence on the arts throughout Iran, the Caucasus, Central Asia and western China has been compared to that exerted by Italian Renaissance culture. During explores these musical traditions, focusing on the classical and the numerous regional traditions in music of the areas of Iranian influence. A broad-based approach – historical, musicological, organological, Asian studies and poetics.
Documents
---
Roman Vlad
Architettura di un capolavoro
Analisi della Sagra della Primavera di Igor Stravinsky
Ricordi, Milano 2005
ISBN 978-88-7592-802-9
A truly singular masterpiece, virtually devoid of precedents or sequels, The Rite of Spring was composed by Igor Stravinsky in the years 1912-13 without heeding any of the usual canons, and comes off as a challenge to traditional standards. In this book Roman Vlad accompanies readers on a painstaking study of the secrets of composition that form the basis of this great work, revealing its extraordinary architectonics and its subtlest esthetic implications.
Documents
---
Paul Celan-Harrison Birtwistle
I silenzi della poesia e le voci della musica
Edited by Luigi Forte
Acts of the International Conference in Torino, Septembre 16, 2004
Edizioni dell'Orso, Alessandria 2005
ISBN 978-88-7694-858-9
The poetry of Paul Celan goes beyond the threshold of the utterable, in a language that is shattered and frozen by pain. This may be the key to its affinity with music. Among the many composers that admire Celan, Harrison Birtwistle harbors a special interest in him. This book presents the acts of a 2004 conference organized in Torino by Enzo Restagno and Roman Vlad. They contain approaches and testimony that range from biographical details to major philosophical themes, as the personalities of Adorno and Heidegger engage in dramatic clashes.
2006 Editions
Contemporary Music
---
Peter Maxwell Davies
La natura, la musica e la storia
Italian edition edited by Enzo Restagno
Ricordi, Milano 2006
ISBN 88-7592-812-6
This book sheds light on one of the most sensitive masters of our time, composer and conductor Sir Peter Maxwell Davies, providing Italian readers with a treasure trove of Davies' own commentary that regularly accompanies each new release. He splits his time between Rome and the Orkney Islands on the north coast of Scotland. He's studied under Petrassi, he relishes the architecture of Borromini, and in the Orkneys he's forged a friendship with poet George Mackay Brown, his personal guide to the history of those faraway isles. The evolution of his language is the subject of a lengthy essay by Roderic Dunnett, while Davies' relationship with Italy is the topic of conversation in an interview with Enzo Restagno.
World Music
---
BoTrân Văn-Khê
Le musiche del Viêt-Nam
Italian edition edited by Enzo Restagno
Ricordi, Milano 2006
ISBN 978-88-7592-811-8
Danang, Huê, My Son… These are geographical locations whose names ring familiar to the ears of people of a certain age. For years we heard them on radio and tv news broadcasts covering the American invasion of Vietnam and fighting against the Vietcong. For world music lovers, these pages, written by the extremely knowledgeable Professor Trân Văn Khê, offer the opportunity to discover how names made famous by war bulletins actually denote places of great beauty, rife with splendid artwork and architecture.  
Documents
---
Dimitrj Šostakovič Trascrivere la vita intera
Lettere 1923-1975
Edited by Elisabeth Wilson
Introduction by Enzo Restagno
Il Saggiatore, Milano 2006
ISBN 978-88-428-1378-8
Shostakovich's relationship with letters was obsessive, compulsive – not unlike his relationship with his art. This collection of letters from his vast output appears here for the first time in Italian. Much of his complex interior world emerges through the lines, which are always tinged with irony and appear as somewhat surreal, recalling the works of Chekhov and Gogol. Presented in the form of an autobiography, the letters are accompanied by the editor's commentary. War echoes through the pages, the author talks about the difficulties of life under the Soviet regime, and his painful, ambivalent relationship with the establishment that at home led to various vicissitudes for music now considered among the twentieth-century classics. 
Books 2007
Contemporary Music
---
Various Authors
Isang Yun. Musica nello spirito del Tao
Edited by Hanns-Werner Heister e Walter Wolfgang Sparrer
Italian edition edited by Enzo Restagno
Ricordi, Milano 2007
296 pp.
ISBN 978-88-7592-837-7

A piecing together a mosaic of the life and work of Isang Yun – his political activism and musical genius. To come up with an in-depth, detailed look at the composer, a product of two cultures who blended the sounds of traditional Korean music with the language of European instrumentation, the authors relied on the support of musicologists, composers, performers and friends of Yun. A multi-layered, surprisingly lively portrait is the result. This book makes for great reading and provides important material for study, with a focus on individual compositions, specific topics and issues dealt with by the composer.
World music
---
Alain Weber
Musiche della Corea
Introduzione alla tradizione musicale della Corea
Edited by Wolfgang Burde
Introduction by Enzo Restagno
Foreword by Wolfgang Burde
Ricordi, Milano 2008
XX-216 pp.
ISBN 978-88-7592-834-6

The Korean musical tradition, extremely rich and articulated, reflects not only the nation's social structure and hierarchy, but its profound spiritual links to Chinese culture as well – in terms of religious and philosophical development, its cosmogony. This book introduces readers to the great wealth of Korea's music, its roots and cultural connections, a chance for Western music lovers to discover an unknown world.
Books 2008
Contemporary Music
---
Olivier Messiaen. Dai canyon alle stelle
Edited by Peter Hill
Introduction by Enzo Restagno
Il Saggiatore, Milano 2008
512 pp.
ISBN 978-884281485-6

Released on the hundredth anniversary of the composer's birth, this monograph is the first to offer a thorough guide to the French master's works. Genre-oriented, Messiaen's works are analyzed by musicologists that include Peter Hill, the book's editor, Wilfrid Mellers, Jane Manning, Richard Steinitz and Paul Griffiths. Pierre Boulez and George Benjamin also pay homage to Messiaen's greatness. Plus an unforgettable interview with his wife, Yvonne Loriod, who both inspired her husband and performed his works on piano with exquisite illumination.
World music
---
Alain Weber
Il viaggio musicale dei Gitani Dall'India all'Andalusia
Introduction by Enzo Restagno
Ricordi, Milano 2008
XX-156 pp.
ISBN 978-88-7592-856-8

In their historical wanderings, Rom peoples have traveled from the desert of Rajasthan to Andalusia, from the green Sindh Valley to the Nile and the Danube, from the high plains of the Himalayas to Transylvania, from the Red Sea to the Atlantic Ocean. This book takes a look at those journeys and music that arose along the way. Weber brings us Rom repertoires and musical traditions of this multifarious culture. We learn how the Rom began their migration from India prior to the year 1000 AD, and follow them to the Middle East and Europe, where they remain to this day a mystery to most.
Books 2009
Documents
---
Various Authors
Lo Studio di Fonologia
Un diario musicale 1954-1983
edited by Maria Maddalena Novati
Ricordi, Milano 2009
ISBN 978-88-7592-869-8

A nearly complete reconstruction of what went on at the RAI's Studio di Fonologia Musicale in Milano, between the years 1954 and 1983, thanks to equipment and materials recovered by Maria Maddalena Novati – including reels of recordings, musical scores, projects. With articles by Angela Ida De Bene¬dictis (on the early years), Alvise Vidolin (on the studio's school), Antonio Rodà (on the evolution of technology and a list of the studio's equipment), Giovanni Belletti (on the studio's sound engineers) and Maria Maddalena Novati (on the studio's history and a catalogue of works produced).
World music
---
Bonnie C. Wade
Le tradizioni musicali del Giappone
Introduction by Enzo Restagno
Ricordi, Milano 2009
ISBN 978-88-7592-868-1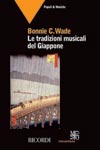 Here Bonnie C. Wade focuses on Japanese contemporary music, with an historical overview and a look at current trends. Three themes lie at the center of her study and provide a listener's guide for the CD that comes with the book: Japan's encounters with other cultures; the gradual process by which musical arts have become progressively popular over the course of Japanese history; and intertextuality in Japanese art.
Books 2010
Contemporary Music
---
Helmut Lachenmann, Wolfgang Rihm
Conversations and Writings
edited by Enzo Restagno
Ricordi, Milano 2010
ISBN 978-88-7592-891-9

Beyond the complementary facets that derive from the diversity of their poetics, Lachenmann and Rihm have much in common, as has been brought to light in this double portrait. Readers discover a complex rapport which is usually defined as the meaning of tradition. The most visible of these shared aspects is both composers' intense dedication to extending their commitment in terms of a theoretical-philosophical perspective, with the writing and publication of numerous essays. This book presents a selection of those writings – which the authors themselves have provided indications for – as well as interviews that offer direct insight into the minds of two luminaries of German music.
World music
---
Giovanni De Zorzi
The Music of Turkeye
With an introduction by Kudsi Erguner
Ricordi, Milano 2010
ISBN 978-88-7592-890-2

Much of the focus of this book is on intercultural relationships, with the spotlight on exchanges, passages, loans and "transit" among peoples, cultures, repertoires and musical instruments in an area that for thousands of years has been East for the West and West for the East. Within this cross-cultural setting we find the theme, so dear to ethnomusicologists, of the so-called "musical otherness", inasmuch as the music and culture of the geographical zone that is present-day Turkey have always been, for the West, the "other". The epicenter of this age-old confrontation was once the city of Byzantium, which became Constantinople in 330 AD, and was re-named Istanbul in 1760, the undying multiethnic, multicultural and interreligious beacon, shining its light over a vast domain.