Chiesa Santa Maria del Carmine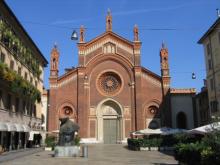 Chiesa di Santa Maria del Carmine
piazza del Carmine, 2
M1 Cairoli/M2 Lanza
Tram 12
The history of Santa Maria del Carmine is complex: collapses, rebuildings and restorations have taken place frequently and the current building has kept the traces of these vicissitudes.
The Carmelite Order was established in Milan in mid-twelfth century; in 1268 the fathers chose as their home a place near the present Castello Sforzesco and on the 25th of May they celebrated the first Mass under a pavilion; in the following years the construction of the church begun.
In 1330, due to a fire, the church was partially destroyed. Rebuilt in the beginning of the 1331, it was abandoned towards the end of the century by the Carmelites, who decided to move to Porta Comasina.
In 1399 Gian Galeazzo Visconti was interested in the factory and the 5th April 1400 sent to Pavia designs for the church and the convent. The construction of the church proceeded slowly, and in 1446, when the works were almost completed, a sudden collapse affected all the building.
The works and repairs began in 1449. Piero Antonio Solari was called to direct them. Santa Maria del Carmine was a "noble church" and it obtained the protection of dukes and many aristocratic families. His chapel became the beloved burial place by the nobles.
In the Seventeenth century the whole church was transformed and enriched with many paintings.
In 1654 major renovations began: the floor, the bell tower and the portal were redone.
In 1880, after more than four centuries, the façade, designed by Carlo Maciachini, was built giving an example of imaginative interpretation of the Lombard gothic.