Torino / Monday 17 September 2018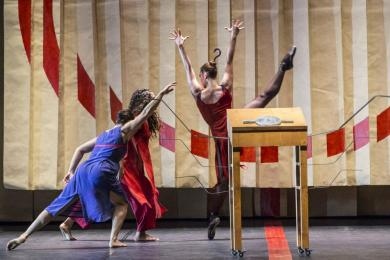 Teatro Carignano / at 08:45 PM
HERODIAS YEARNING FOR WIND 1993 > 2017
Conceived within the project RIC.CI, Herodias – Yearning for Wind is the reconstruction of the 1993 opera born out of the collaborative efforts of Julie Ann Anzilotti and Alighiero Boetti. Their artistic teamwork went into the making of a work in which the integration of movement and painting underscores the nobility and elegance of the choreography. Inspired by the unfinished poem Hérodiade by Stéphane Mallarmé, the figure of Herodias is depicted within the context of her great solitude and bitterness. The legend of sensuality is replaced by a yearning for warmth and passion that lead her to scheme for the head of John the Baptist, whose martyrdom opens the possibility for Herodias' catharsis.
Produced by the XE Company
Co-produced by the Fabbrica Europa Foundation
for Contemporary Arts,
The Ravenna Festival,
The Ferrara Municipal Theater Foundation
Claudio Abbado, the Torinodanza Festival /
Teatro Stabile of Torino - Teatro Nazionale
In conjunction with the Marchigiana Theatrical Association, The Public Theater of Puglia -
Regional Consortium for the Arts and Culture,
The Tuscan Foundation for Entertainment,
The Milano Foundation's Paolo Grassi Municipal School of Theater

Assigned Seating € 20 Discount € 17 / Under 35 € 12
Choreography by Julie Ann Anzilotti Scenery by Alighiero Boetti Redeveloped as part of the project RIC.CI "Reconstruction of Italian Contemporary Choreography in the 1980s and '90s, conceived and directed by Marinella Guatterini.