Torino / Saturday 17 September 2011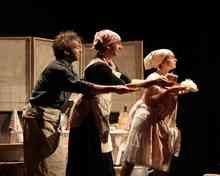 Casa Teatro Ragazzi e Giovani / at 04:00 PM
Cuoche Alla Riscossa! / Revenge of the Cooks!
A One-Act Chamber Opera Music and book by Giorgio Spriano
Sandro Tognatti, clarinet
Directed by Roberta Faroldi
Set Design by Enrica Campi and Massimo Voghera

In conjunction with Fondazione Teatro Ragazzi and Giovani e Mythos
General Admission € 5
Food as a metaphor of life and spirit: feed man with pettiness and you get an angry, selfish populace; open the doors to the joy of the palate and you get a smile. A romping musical comedy with a gastronomic querelle featuring a classical male voice and a cast of three actors and singers, backed by an instrumental ensemble. ______________________ For children ages 5 and up.