Hilliard Ensemble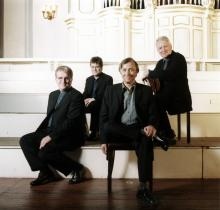 Ineguagliabile grazie alla sua formidabile reputazione che spazia dalla musica contemporanea a quella antica, l'
Hilliard Ensemble
è uno dei più rinomati gruppi vocali da camera. Il suo stile caratteristico, il suo talento e l'ottima abilità musicale creano un filo diretto con gli ascoltatori, incantandoli sia durante l'esecuzione del repertorio medievale e rinascimentale, sia durante l'esecuzione di brani composti appositamente per l'Ensemble da artisti contemporanei. Il gruppo s'impone negli anni Ottanta come ensemble di musica antica, grazie all'enorme successo degli album registrati per EMI (molti di questi sono ora dell'etichetta Virgin) e per la propria etichetta discografica Hilliard Live, ora disponibili su Coro Label; ma, nonostante l'inclinazione musicale originaria l'Ensemble ha sempre riservato pari attenzione alla musica contemporanea. Nel 1988 la registrazione di
Passio
di Arvo Part ha dato inizio a un importante e fecondo rapporto con il compositore e con la ECM; a ciò ha fatto seguito la registrazione, da parte dell'Hilliard Ensemble, di
Litany
. Il gruppo ha recentemente commissionato nuove composizioni a diversi musicisti provenienti dai paesi baltici come Veljo Tormis e Erkki-Sven Tüür, e un ricco repertorio di musica moderna a Gavin Bryars, Heinz Holliger, John Casken, James MacMillan, Elena Firsova e molti altri. In aggiunta ai molti dischi di musica a cappella, le collaborazioni con EMC comprendono in particolar modo
Officium
e
Mnemosyne
con il sassofonista norvegese Jan Garbarek, un rapporto che continua a crescere e a rinnovarsi, e
Morimur
con il violinista barocco tedesco Christoph Poppen e il soprano Monika Mauch. Il gruppo continua nella sua ricerca di nuovi rapporti con compositori contemporanei. Nel 1999 ha eseguito in anteprima
Miroirs des Temps
di Unsuk Chin, con la Orchestra Filarmonica di Londra e Kent Nagano, e nello stesso anno
Quickening
di James MacMillan, eseguito insieme all'Orchestra di Philadelphia, è stato premiato in occasione dei BBC Proms. Con Lorin Maazel e la Filarmonica di New York l'ensemble ha eseguito in prima mondiale la
Terza Sinfonia
di Stephen Hartke; più recentemente, ha collaborato con l'Orchestra da Camera di Monaco in un nuovo lavoro di Erkki-Sven Tüür. Nel 2007 l'Hilliard Ensemble ha collaborato con l'Orchestra Filarmonica di Dresda alla prima esecuzione mondiale di
Nunc Dimittis
, opera del compositore russo Alexsander Raskatov; anche questa composizione è stata incisa per la EMC. Un nuovo sviluppo per il gruppo ha avuto inizio nell'agosto 2008, con la prima esecuzione mondiale di un progetto musico-teatrale scritto da Heiner Goebbels e prodotto dal Teatro Vidy di Losanna per il Festival internazionale di Edinburgo:
I went to the house but I did not enter
. Quest'opera è stata successivamente presentata in tutta Europa e negli Stati Uniti. Per la stagione 2008/2009, gli eventi principali nel calendario dell'Hilliard Ensemble hanno previsto le prime esecuzioni a Colonia, Parigi e New York di
Et Lux
; nuova opera di Wolfgang Rihm eseguita con il Quartetto Arditti, un mini-festival alla Wigmore Hall di Londra; un breve viaggio in Australia in occasione Festival Internazionale delle Arti di Perth, la prima esecuzione europea della Terza Sinfonia di Stephen Hartke con Christoph Poppen e la Deutsche Radio Philharmonie Saarbrücken Kaiserslautern e concerti con Jan Garbarek.