Milano / Wednesday 6 September 2017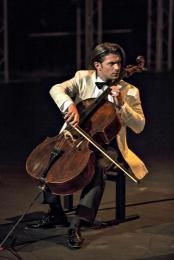 Spazio Teatro 89 / at 09:00 PM
MIRACULOUS DAUGHTERS
Beethoven was the first: Until him, no one had ever managed to balance out the disparate sounds of the cello and the piano. Rachmaninoff also explored the combination, with an emphasis on the romantic. Things were certainly not easy for Debussy, who initially wanted to entitle this piece Pierrot, Angry at the Moon. As listening experiences, they're marvelous sonatas. And behind each lies a small miracle.
Jérôme Ducros
Encore
Sergej Rachmaninov
Sonata in sol minore op. 19
Ludwig van Beethoven
Sonata in sol minore op. 5 n. 2
Claude Debussy
Sonata
The concert will be preceded by a brief introduction courtesy of Mattia Palma
Free admission SEATING BASED ON AVAILABILITY Free admission coupons will be distributed at concert venue, beginning 45 minutes prior to the start of the performance. Spectators will be admitted based on availability of seating.