MITO editions
MITO SettembreMusica continues its publishing endeavors, which began back in 1985 when SettembreMusica was a Torino-based festival. We remain dedicated to enriching the panorama of Italy's music culture by providing lasting testimony. With the fifth edition of MITO SettembreMusica in 2009, our monographs and studies in ethnomusicology numbered 39 in all. Much of the interest in the monographs is focused on exhaustive interviews which offer authentic autobiographical dialogue. Our ethnomusicology series has been widely used in university courses in Italy and abroad. Combining our traditional music showcase with publications of equally high quality, under the supervision of the Festival's Artistic Director, is part of MITO SettembreMusica's ongoing commitment to fostering music culture in today's and tomorrow's audiences.
Books 2010
Contemporary Music
---
Helmut Lachenmann, Wolfgang Rihm
Conversations and Writings
edited by Enzo Restagno
Ricordi, Milano 2010
ISBN 978-88-7592-891-9

Beyond the complementary facets that derive from the diversity of their poetics, Lachenmann and Rihm have much in common, as has been brought to light in this double portrait. Readers discover a complex rapport which is usually defined as the meaning of tradition. The most visible of these shared aspects is both composers' intense dedication to extending their commitment in terms of a theoretical-philosophical perspective, with the writing and publication of numerous essays. This book presents a selection of those writings – which the authors themselves have provided indications for – as well as interviews that offer direct insight into the minds of two luminaries of German music.
World music
---
Giovanni De Zorzi
The Music of Turkeye
With an introduction by Kudsi Erguner
Ricordi, Milano 2010
ISBN 978-88-7592-890-2
Much of the focus of this book is on intercultural relationships, with the spotlight on exchanges, passages, loans and "transit" among peoples, cultures, repertoires and musical instruments in an area that for thousands of years has been East for the West and West for the East. Within this cross-cultural setting we find the theme, so dear to ethnomusicologists, of the so-called "musical otherness", inasmuch as the music and culture of the geographical zone that is present-day Turkey have always been, for the West, the "other". The epicenter of this age-old confrontation was once the city of Byzantium, which became Constantinople in 330 AD, and was re-named Istanbul in 1760, the undying multiethnic, multicultural and interreligious beacon, shining its light over a vast domain. 
Books 2009
Documents
---
Various Authors
Lo Studio di Fonologia
Un diario musicale 1954-1983
edited by Maria Maddalena Novati
Ricordi, Milano 2009
ISBN 978-88-7592-869-8

A nearly complete reconstruction of what went on at the RAI's Studio di Fonologia Musicale in Milano, between the years 1954 and 1983, thanks to equipment and materials recovered by Maria Maddalena Novati – including reels of recordings, musical scores, projects. With articles by Angela Ida De Bene¬dictis (on the early years), Alvise Vidolin (on the studio's school), Antonio Rodà (on the evolution of technology and a list of the studio's equipment), Giovanni Belletti (on the studio's sound engineers) and Maria Maddalena Novati (on the studio's history and a catalogue of works produced).
World music
---
Bonnie C. Wade
Le tradizioni musicali del Giappone
Introduction by Enzo Restagno
Ricordi, Milano 2009
ISBN 978-88-7592-868-1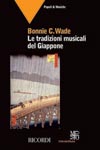 Here Bonnie C. Wade focuses on Japanese contemporary music, with an historical overview and a look at current trends. Three themes lie at the center of her study and provide a listener's guide for the CD that comes with the book: Japan's encounters with other cultures; the gradual process by which musical arts have become progressively popular over the course of Japanese history; and intertextuality in Japanese art.
Books 2008
Contemporary Music
---
Olivier Messiaen. Dai canyon alle stelle
Edited by Peter Hill
Introduction by Enzo Restagno
Il Saggiatore, Milano 2008
512 pp.
ISBN 978-884281485-6
Released on the hundredth anniversary of the composer's birth, this monograph is the first to offer a thorough guide to the French master's works. Genre-oriented, Messiaen's works are analyzed by musicologists that include Peter Hill, the book's editor, Wilfrid Mellers, Jane Manning, Richard Steinitz and Paul Griffiths. Pierre Boulez and George Benjamin also pay homage to Messiaen's greatness. Plus an unforgettable interview with his wife, Yvonne Loriod, who both inspired her husband and performed his works on piano with exquisite illumination.
World music
---
Alain Weber
Il viaggio musicale dei Gitani Dall'India all'Andalusia
Introduction by Enzo Restagno
Ricordi, Milano 2008
XX-156 pp.
ISBN 978-88-7592-856-8

In their historical wanderings, Rom peoples have traveled from the desert of Rajasthan to Andalusia, from the green Sindh Valley to the Nile and the Danube, from the high plains of the Himalayas to Transylvania, from the Red Sea to the Atlantic Ocean. This book takes a look at those journeys and music that arose along the way. Weber brings us Rom repertoires and musical traditions of this multifarious culture. We learn how the Rom began their migration from India prior to the year 1000 AD, and follow them to the Middle East and Europe, where they remain to this day a mystery to most.
Books 2007
Contemporary Music
---
Various Authors
Isang Yun. Musica nello spirito del Tao
Edited by Hanns-Werner Heister e Walter Wolfgang Sparrer
Italian edition edited by Enzo Restagno
Ricordi, Milano 2007
296 pp.
ISBN 978-88-7592-837-7

A piecing together a mosaic of the life and work of Isang Yun – his political activism and musical genius. To come up with an in-depth, detailed look at the composer, a product of two cultures who blended the sounds of traditional Korean music with the language of European instrumentation, the authors relied on the support of musicologists, composers, performers and friends of Yun. A multi-layered, surprisingly lively portrait is the result. This book makes for great reading and provides important material for study, with a focus on individual compositions, specific topics and issues dealt with by the composer.
World music
---
Alain Weber
Musiche della Corea
Introduzione alla tradizione musicale della Corea
Edited by Wolfgang Burde
Introduction by Enzo Restagno
Foreword by Wolfgang Burde
Ricordi, Milano 2008
XX-216 pp.
ISBN 978-88-7592-834-6

The Korean musical tradition, extremely rich and articulated, reflects not only the nation's social structure and hierarchy, but its profound spiritual links to Chinese culture as well – in terms of religious and philosophical development, its cosmogony. This book introduces readers to the great wealth of Korea's music, its roots and cultural connections, a chance for Western music lovers to discover an unknown world.